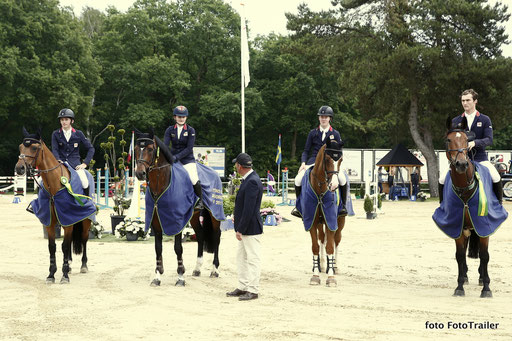 The team of Great-Britain is winner of the FEI Nations Cup for junior riders in Wierden. Belgium finished 2nd. The Netherlands and Germany shared the 3rd position.
The last rounds were very exciting with Belgium on pole position. If the last British rider Harry Charles had one pole down, a jump-off between Belgium and Great-Britain followed. But Harry stayed cool and finished the job. Congratulations to Harry and his team members Jodie Hall McAteer, William Fletcher and Jack Whitaker, who finished the game with 4 penalty points.
Belgium became 2nd with 8 points. Thibeau Spits and Simon Morssinkhof both jumped double clear. The others, Claire Putters and Arnaut Gaublomme both had one down in both rounds.
For The Netherlands, who shared 3rd place with Germany, Rowen van de Mheen achieved the best results: two clear rounds with Q Vrdi (Quidam de Revel). Rowen's other team members are Laurie Touw, Sven Peters and Niels Kersten.