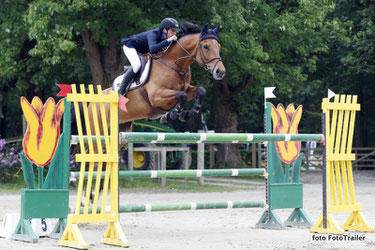 The Belgian Junior riders were extremely successful in the Small Tour at 1.30m level this morning. Winner of the Stal Peter Geerink Prize was Axel Vandoorne with Divine Louise (Clinton). The Belgians Dieter Vermeiren and Mathias Hazebroek finished 2nd and 3rd.
Best Dutch rider Sjoerd Kommers achieved the 6th prize r with Don Nabab (Nabab de Reve)
Stal Peter Geerink Prize, CISO-J Small Tour 1.30m level:
1. Axel Vandoorne, BEL, Divine Louis (Clinton)
2. Dieter Vermeiren, BEL, Ilias Van Het Hof Ter Velde (Unique II Drum vh Juxschot)
3. Mathias Hazebroek, BEL, Chivas (Carpaccio)
4. Valerio Mosca, ITA, Goldstar (Clinton)
5. Johanna Biber, AUT, Sonnenbluemchen B (Cola).
Click here for more results, photo FotoTrailer